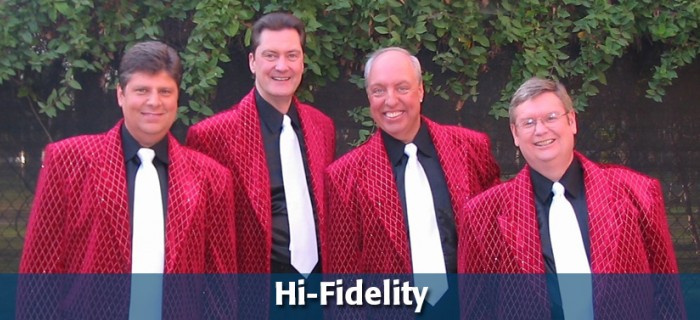 Hi-Fidelity is
Craig Ewing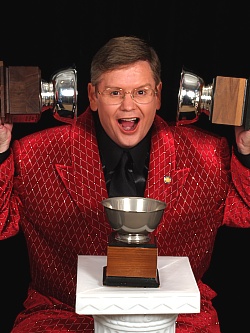 Craig Ewing, tenor, is a three-time Far Western District quartet champion and the musical director of the Fullerton Chapter Orange Empire Chorus.
He received his Bachelor of Music degree from California State University, Long Beach with a concentration in choral/vocal music. While there he served as a student conductor of the CSULB University Choir and the Men's Chorus. Craig is a vocal specialist in Cambiata (the changing male voice). In 1984 he was a tenor section leader for the Olympic Honor Choir at the Olympic Games in Los Angeles.
Craig also has 20 years of experience as a sound reinforcement engineer and recording producer, including the annual production of the CHAMPS series for the Association of Far Western District Champions (AFWDC).
It's appropriate that he do that work for the AFWDC since he's been in FWD champion quartets twice. In 1988 he was with Musician's Choice which was also a three-time international competitor; and in 1993 he won with Rhythm & Rhyme, a six-time international semi-finalist. Craig has more honors in Barbershopping than you can shake a stick - er, a baton at. He has been a Barbershopper for 30 years and was one of the first honorees to receive the Bachelor of Harmony award from the Barbershop Society.
Dan Jordan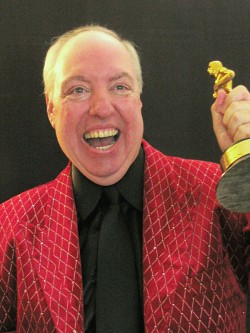 Dan Jordan (Lead) is a long-time member of the Barbershop Harmony Society (SPEBSQSA), 38 years to be exact. Dan has won two Far Western District Quartet Championships, four medals in International competition with The Grand Tradition and The 139th Street Quartet, a Harmony Sweepstakes National A Cappella Championship with The Perfect Gentlemen, and a gold medal as the lead singer of The New Tradition. Dan's groups have toured to England and Ireland, Brazil, Russia, Mexico, and Canada, and have shared the stage with the King's Singers at the Barbican Centre, sung back-up for Neil Diamond on his two multi-platinum Christmas recordings, and with Justin Timberlake at ESPN's ESPY Awards to name a few.
He also has the distinction of being the singing voice of Homer Simpson on the episode of The Simpsons "Homer's Barbershop Quartet," featuring "The Be Sharps." Dan sang baritone for 6 years with Main Street's own The Dapper Dans of Disneyland. He has appeared on numerous television shows including: Arrested Development, Blossom, ER, Gilmore Girls, That Was The Week That Was, Big Brother 8, Nurses, and numerous commercials for amazon.com. Additionally, he has performed on stages around the U.S. as talk-show host "Doug Michaels" in the stage show about John Lennon called "A Day in His Life."
Gregg Bernhard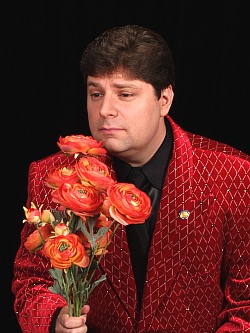 A Barbershopper for 20 years, Gregg was first introduced to the hobby in Jr. High, when a Barbershopper named Greg Lapp was student teaching at his school. Ironically, Gregg and Greg later sang together in Late Night Barbershop and placed in the top 20 at the International contest in 1997 - Gregg actually sang tenor in that LNB foursome, moving over to baritone in 1998. In 1985 Gregg joined his first Barbershop chorus - a new small chorus called the Masters of Harmony. As a charter member, Gregg won the small chorus contest, and later won International Gold Medals singing Lead in 1996 and Baritone in 2002 and 2005. Gregg also sang at the International chorus contest in 1987 with the San Fernando Valley Valleyaires. While at Cal-State Fullerton (earned a music minor), Gregg formed the Barbershop Bones. This quartet consisting of the trombone section of the CSUF # 1 Jazz Ensemble played and sang barbershop. The Bones were a very popular show quartet in the early 1990's all over the Southwest U.S. Gregg sang with Martin in other notable Far West quartets including On Location and Vocal Union.
Martin Fredstrom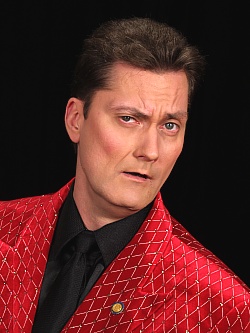 Martin Fredstrom sings bass and has been a musician for over 25 years. Martin began as a soloist at the age of 8 in his local church. Although a native Californian, he spent much of his youth in Arizona and played guitar, organ and drums for various civic and church groups. After "discovering" barbershop in 1984, he has been continually active in a cappella music of all kinds and won the Arizona/Southern Nevada Novice Quartet championship in 1989 with Seems Like Old Times. Over the years he has been a performing member of the Scottsdale Copperstatesmen and the International Champion Phoenix Phoenicians.
In 1990 Martin returned to California and joined the 6-time International Champion Masters of Harmony chorus. Over the years Martin has stayed busy quarteting in Doo-Wop and Barbershop quartets such as the Quadraphonics, Vocal Union, Center Court, The City Boys, and The Debonaires. Martin has also been the Musical Director for the San Gabriel, Long Beach and Inland Empire Choruses and is a member of the Far Western District Chorus Directors Guild.
Martin is married to his lovely wife Tresa and they live in Tustin Ranch.
Awards and Achievements:
2005 Far Western District Quartet Champions
2006 Harmony Sweepstakes National A Cappella Champions
2008 Pan Pacific Quartet Champions