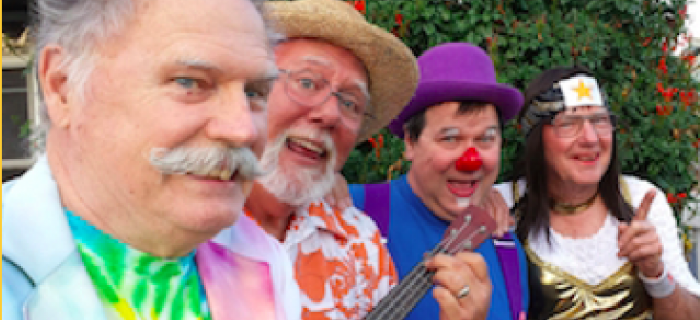 Lead:  Rick "Pretzel" De Lung
Bass:  Don "Uke" Derler
Baritone:  "Aunt Ferdie" Roades
Tenor:  Bobby "Okie" Faris
The Spit-Tunes were the 2000/2001 Southern California Comedy Quartet Champions. Their wonderful show consists of a mix of comedy, visual and physical humor, illusion, puppetry as well as, of course, great Barbershop Harmony!  The "Spit-Tunes" have appeared in many famous venues including: The Richard Nixon Library, Scotty's Castle in Death Valley, the Riverside Resort & Casino in Laughlin, Nevada as well as the Plummer Theatre in Fullerton, CA and twice at the world famous Magic Castle in Hollywood!
Featured Events
Music and fun for the whole family! Singing waiters serve your dinner amidst a song-filled musical... more
Recent news