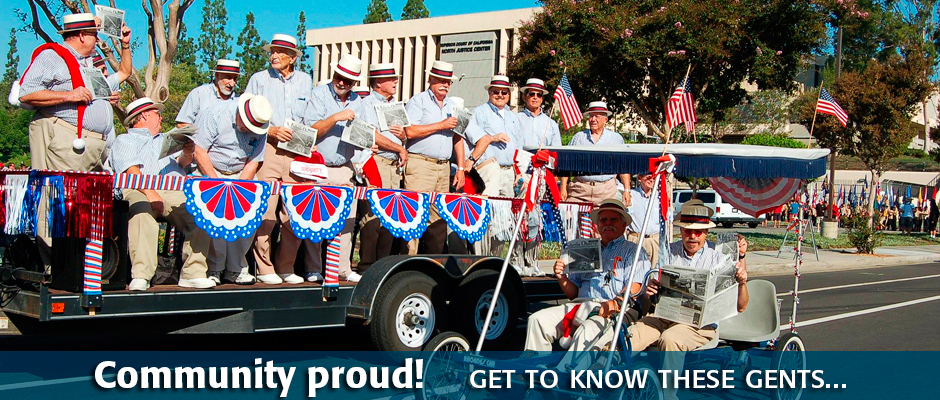 We're Number Fun!  The Orange Empire Chorus is a group of men who love to sing. We gather each week to have fun ringing chords in four-part barbershop harmony. We love to perform, and our audiences return again and again to join in the fun of our performances. Each year we present numerous shows and contest performances filled with comedy and song.
The Members
We are men from all walks of life including truck drivers, lawyers, doctors, engineers, students, contractors, administrators, teachers, salesman, etc. In age, we range from early twenties to mid-nineties. On any given night, dress ranges from shorts or jeans and sneakers to three piece suits.
We live in Anaheim, Brea, Buena Park, Diamond Bar, Fullerton, Garden Grove, Huntington Beach, Irvine, La Habra, Long Beach, Orange, Placentia, Rowland Heights, Yorba Linda and even some more remote locations.
Our common bond is the pleasure we derive from singing four-part harmony. That does not mean we are all professional singers - true, we have some trained voices and quality vocal chords, but we also have our share of bath-tub baritones and bar-room tenors.
Why We Sing
Singing is undeniably an enjoyable and rewarding avocation. It is a proven prescription for combatting stress. It helps you feel good about yourself and those with whom you share this pastime. But beyond this, there are as many reasons to sing barbershop as there are members. Some simply enjoy the camaraderie. Others enjoy performing. Some are into competition. Some get satisfaction from supporting music education in our school systems.
Whatever the reason, barbershop harmony is a pure music form that provides great pleasure for the participants as well as the listeners.
Join Us for Rehearsal
Our rehearsals take place every Tuesday from 7:00pm to 9:30pm at the First Presbyterian Church, 838 N Euclid, Fullerton. Guests are welcome at any time.